Buildings go up. Buildings come down. Such is the cyclical nature of urban development. While construction projects often involve long hours of painstaking labor, sometimes those efforts are rewarded. Let's start digging.
10. Holiday in Britannia
With its craggy shoreline and tranquil beaches, the seaside resort town of Scarborough, England, is a popular UK vacation spot. Not surprisingly, a recent discovery reveals ancient Romans held a similar affinity for the inviting landscape.
The remains of a luxurious Roman villa were discovered earlier this year at a new housing development in North Yorkshire. During the subsequent excavation, a sprawling complex of buildings was uncovered, including a circular central area with several rooms and a bathhouse.
Keith Emerick, Historic England's inspector of ancient monuments, believes the unique layout is possibly the first of its kind within the entire Roman Empire.
"One of the descriptions we had was that it is something like a religious building that is almost like a gentleman's club, there's a bath house as well. So it's a really interesting hybrid building at the moment, "said Emerick.
9. Norsin' Around
Whether viewed as expressive art or an act of senseless vandalism, graffiti stretches back thousands of years across a panoply of civilizations. To wit, excavations for a new hotel in Dublin in 2019 unearthed a trove of Viking artifacts that included graffiti etched on a piece of slate.
Dating back to the Hiberno-Norse period (about 300 years after the Vikings first settled on the east coast of Ireland), the image depicts a warrior on a horse holding a shield in one hand and a sword in the other. He also appears to be shot by an arrow, suggesting the artist may have been trying to make a political statement.
The dig took place in The Libertines, one of Dublin's oldest neighborhoods in the Irish capital. Archaeologists also found items from two other settlements from the middle ages and the 17th century in the same waterlogged area — a condition that helped preserve the rare findings.
8. Never-Ending War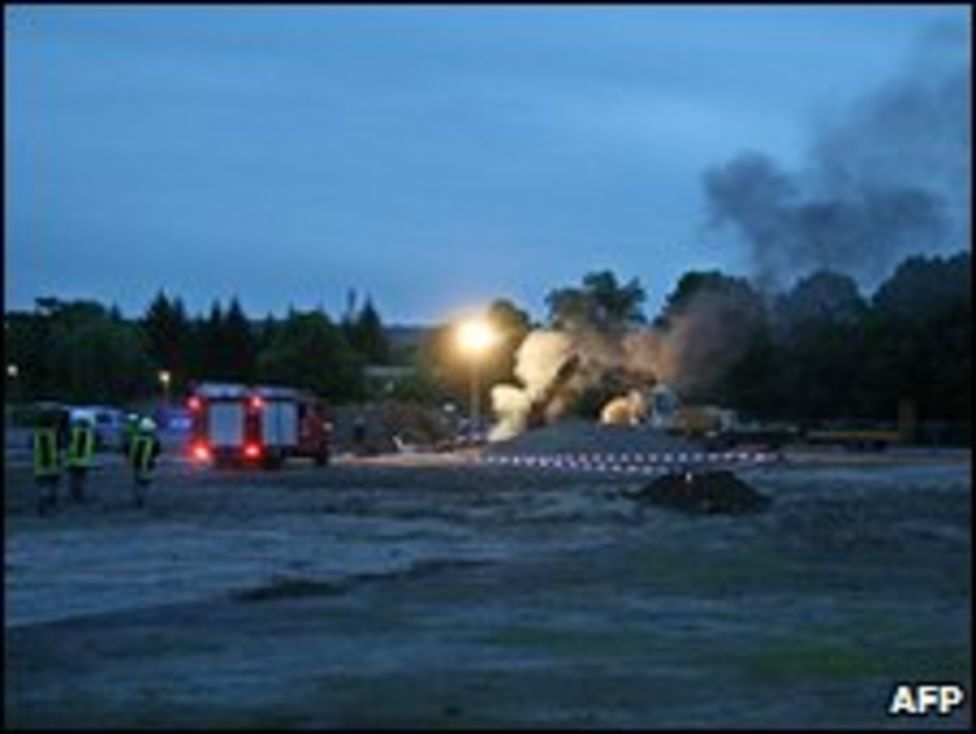 The lingering effects from two world wars continue to inflict casualties long after the last shots were fired. For example, in June 2010, a crew building a sports stadium in Göttingen, Germany found a 500-kilogram (1,100-pound) bomb buried approximately seven meters (23 feet) below the surface. The discovery would have deadly consequences.
Residents living in the area were immediately evacuated, including several schools and a kindergarten. But as well-seasoned German experts prepared to disarm the unexploded ordnance (UXO), it suddenly detonated, killing three and severely injuring six others.
The bomb, dropped by the Allies during WWII, had been fitted with a delayed-action chemical fuse. However, it malfunctioned at the time of release, becoming increasingly unstable after lying underground for more than seven decades.
7. Tapas and More
Located in the heart of Seville, Spain, near the city's legendary Gothic cathedral, Cervercería Giralda has a colorful history stretching back nearly a century. The famous tapas bar now also features the remnants of a 900-year-old Islamic bathhouse discovered during renovations in 2020.
When the coronavirus pandemic scuppered the usually robust tourist season last year, the owners of the restaurant decided to tackle some long-overdue repairs. The end result surpassed all expectations.
As laborers began chipping away at plaster from the vaulted ceiling, they uncovered a 12th-century Islamic hammam, replete with star-shaped skylights and geometric paintings representing the night sky. The structure dates back to an era when the Almohad caliphate ruled over much of the Iberian Peninsula and North Africa as part of the Berber Empire. Worshipers most likely used these types of ornate bathhouses to cleanse themselves before entering a mosque to pray.
6. Jackpot
The late 5th century saw Goths and Vandals emerge as a military force, ultimately resulting in the fall of the once-mighty Roman Empire. In the midst of this turbulent period, more than 300 coins were hidden inside an amphora for safekeeping. The stash stayed hidden until 2018, when workers in Como, Italy, stumbled upon a pot of gold in the basement of an abandoned theater.
According to coin expert Maria Grazia Facchinetti, whoever placed the jar there had "buried it in such a way that in case of danger, they could go and retrieve it." The coins date back to the Roman Imperial period, featuring various emperors ranging from Honorius to Leo I.
5. Explosive Antique
From 1861 to 1865, Union and Confederate troops fired an estimated 1.5 million artillery shells at each other. Not all of them exploded. Although relatively rare compared to other conflicts and war-torn regions, unexploded ordnance from the American Civil War is still occasionally found.
Construction workers in Charleston, South Carolina, unearthed an eight-inch long Parrot shell while digging up a cobblestone driveway in 2003. A local Civil War reenactor recognized black-powder-filled projectile, which led to a portion of downtown being shut down. Fortunately, explosives teams from the Charleston Police Department and Joint Base Charleston were able to successfully dispose of the munition.
4. Triceratrop-olis
Denver, Colorado, commonly known as the "Mile High City," claims a robust metropolitan population of just under three million people. But 68 million years ago, large herds of triceratops roamed the same elevated region, experiencing their own prehistoric Rocky Mountain high.
In the summer of 2019, a partial skeleton of the three-horned dinosaur was uncovered by workers digging on the site of a retirement community in the Highlands Ranch district. Paleontologists from the Denver Museum of Nature & Science identified the fossils, which had been embedded in a rock layer dating back to the late Cretaceous Period.
The dino, which includes portions of its face and frill, is the most complete yet recovered from the Denver Basin. Museum spokesperson Maura O'Neal confirmed the findings of the fierce herbivorous creature. "It's certainly not the first one," O'Neal said. "There have been many in Colorado."
3. Heavy Metal
Although the majority of trench warfare in WWI occurred along the Western Front, a reminder of the horrific carnage managed to find its way 5,000 miles away in Canada. On December 11, 2020, an equipment operator in Amherstburg, Ontario, unearthed a one-ton German field gun while digging up dirt on a high school construction site.
The 7.7 centimeter Feldkanone 96 served as the workhorse for the Imperial German Army throughout The Great War, launching 15 pound shells with an effective firing range of 6,000 yards. The breech-loading artillery piece included a mounting system with elevation handles and multi-spoked solid wheels, typically operated by a crew of five personnel.
The gun had initially been brought to the region as a war trophy but became weathered over time, making restoration unlikely. The rusted weapon was eventually buried and forgotten about until now.
2. Heads Up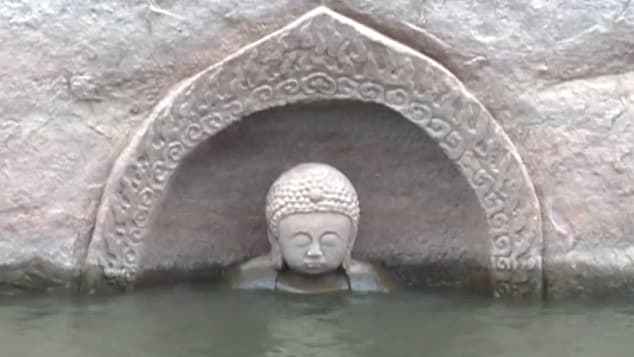 China is home to a vast collection of ancient monuments, including the gargantuan 71 meter (233 feet) Leshan Giant Buddha, the world's tallest statue of "The Enlightened One." A 600-year-old Buddha was recently added to the list after emerging from the Hongmen reservoir in eastern Jiangxi Province in 2017.
The head of the statue had been previously submerged in 32 feet of water, before dramatically re-appearing following work on a hydropower gate. Historians have suggested the figure could date back to the early Ming Dynasty, which lasted from 1368-1644 CE.
1. Brutality for All
For the most part, with a few exceptions (see entry 10), life in the Roman Empire was no bed of roses. Emperors were frequently assassinated. Soldiers fought endless bloody wars. And slavery existed throughout the realm.
In 2015, a grim reminder of these dark, dreary times materialized in England, which Rome ruthlessly occupied between 43 and 410 AD. While renovating a private home in the East Midlands village of Great Casterton, workers discovered the grave of an enslaved man, who wore heavy iron shackles and a padlock around his ankles.
A subsequent report in the journal, Britannia, sheds further light on the harsh punishment doled out by the Romans: "shackles were not simply a way of preventing the escape of more rebellious slaves, they were symbolically charged and violent tools of domination and humiliation, a fact that is clear in the writings and iconography of the ancient world."
It's worth noting these types of restraints are still popular among certain circles in modern-day Britain (nudge nudge, wink wink).
Other Articles you Might Like