Check out these Ten Attractive Female Inmates Desire Penpals in 2021
Here is a great Tip Top Ten list of attractive inmates who desire penpals. This list is from the number one ranked inmate pen pal site, meet-an-inmate.com and jailbabes.com. Pick up a pen and write them the old fashioned way via snail mail. Be sure and read their disclaimer posted on the home page. The inmates listed are convicted felons and caution should be used. Be understanding without being gullible. As a pen pal, you can offer encouragement and motivation for an inmate to make positive changes in her life.
10. Meagan Reel from meet-an-inmate.com
My name is Meagan Alexander Reel. I'm a country girl born in Texas and raised in Tennessee. I'm a blond, blue-eyed, fun-loving woman that stands at 5'8"", 160 pounds. I love the outdoors along with any water activities, or just having fun in the sun. I also have a huge love for all animals, especially dogs. I'm a very open-minded, positive kind of girl who just loves to laugh, have a good time, and enjoy life for what's it worth. I'm not perfect, I've made my share of mistakes.
I'm just looking for someone to share life's experiences with, that's honest and willing to open up in hopes of getting to know each other better, and growing into an amazing friendship that could last a lifetime.
I am in here on a violation of parole. That's just a little about me, and if interested, please feel free to write on a more personal level. I'm just looking for a fresh start at life! I'm looking forward to hearing from you. I'm an open book. Feel free to ask anything.
9. Andrea Schultejans from Jailbabes.com
Hi! My name is Andrea Schultejans. My photos are real and this is me. I'm 22 years old. I grew up all over San Diego County. I'm currently serving a local sentence for violation for not reporting to my PO.
I'm a fun loving, outgoing, loyal, down for anything girl. I love meeting new people and experiencing new things. I love stimulating conversations, someone who is witty and can make me laugh because guaranteed I will make you laugh.
I would like to be able to talk to someone who can help keep my mind off my current situation and encourage me to go after my dreams. I want to learn something from this situation. I would like to use my time bettering myself.
If you like what you hear feel free to write me. I do need stamps. *Wink, Wink*. I know you are out there and I can't wait to hear from you.
8. Regina Olivares from meet-an-inmate.com
I'm a 23 year old mother of one who's obviously made some bad choices in life. But what matters the most is my family and what I do from here on out to ensure I never come back here. I'm very motivated and smart and I need someone who's as equally motivated and going to encourage me and not knock me for my short comings. I'm easy going, down to earth, funny, smart, and loyal. When I'm not in here I love to watch movies hang out with family and friends.
If your interested please don't hesitate to send me a letter so we can get to know each other better. Have a great day!!
7. Asja Smith-Moore from JailBabes.com
Hey. I'm currently at Norfolk, Va. I am looking to meet new people and who knows maybe something more! Feel free to write me I will always write back! I hope to hear from you soon.
6. Larissa Alexander from meet-an-inmate.com
Hey there! Everyone calls me LA, just a nickname, I'm from Texas. I'm looking for a long term, uplifting friend to ride my time out with. I'm petite with several professional tattoos. The saying "a rolling stone collects no moss" accurately describes me because I am always looking for adventure, love traveling off the beaten path, and make friends from all walks of life. I love music- I have a song for every mood. I enjoy HIIT and yoga.
When I get my freedom back, I would love to become a holistic healer and spend time traveling the world, crossing things off my buckets list. I am a creative thinker who loves the outdoors, pod casts, philosophy, and sacred geometry. If you think you're in tune with my frequency, I would love to hear from you. "It's only after we've lost everything that we're free to do anything." Please write and include your name, address, and email to be added to my contacts for correspondence. To send photos quick and easy, use the pelipost app! (No greeting cards).
5. Piper Morang from JailBabes.com
Hi, my name is Piper. I am 28, and I have 2 boys. I am looking for positive healthy friendships on the outside. I like to spend my spare time reading fiction novels and hanging out with friends.
I have a great sense of humor and I love to laugh. I am taking an HVAC course. I plan to use the remainder of my time bettering myself in any way I can.
Thank you for taking the time to read my profile. I can't wait to hear from you.
Notice: If you write Piper via JPay.com email, you must include your postal mailing address, or she will not be able to respond. She can receive emails but can only respond via postal mail.
4. Tiffany Phommarath from meet-an-inmate.com
Hello! My name is Tiffany and I was born and raised in Kansas. My friends describe me as sweet, bubbly and fun to talk to.
I am interested in connecting with people with good, positive vibes. Feel free to message me on JPay or send a letter!
3. Myla Pennington from JailBabes.com
My name is Myla. I enjoy reading, cooking, taking walks, crocheting, and talking with friends and family. I'm looking for someone to talk to to help pass my time and keep my mind busy. Looking for a friend that could possibly turn into more. I look forward to hearing from you. Send emails on Connect Network I'm currently unable to receive paper letters.
2. Kassandra Potts from meet-an-inmate.com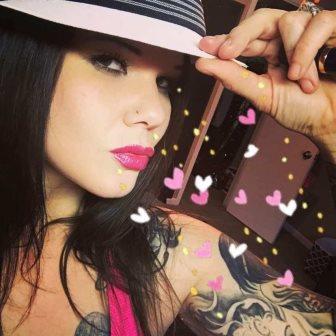 Beautiful kindhearted 30 year old looking for a pen pal maybe more. Enjoys traveling and meeting new people. I am a people person. I am very physically fit and enjoy excessing, swimming, jogging and cooking and as well I love motorcycle riding, no one thing.
I am not doing a lot of time but enough time to know what I want in life. I hope to hear from you .
Rhiannon Champagne

from JailBabes.com



Have you ever heard of the song "Rhiannon" by Fleetwood Mac?

If no, please stop reading this and go listen to it. But come right back…that song describes me well, so it's no coincidence that I was named after the song…or maybe my name pre-determined what my life was going to be like. Who really knows?I am 27 years old and I am unfortunately currently incarcerated in San Saba, Texas aka BFE. I have an 8 year sentence and I am eligible for parole in January of 2022. I'm really just looking for some fun, entertaining and intelligent conversation to help pass my time more smoothly. I'm very down to earth and open minded. Definitely a "go with the flow" kind of person. I'm going to keep this short and simple so there's room for questions. I look forward to hearing from you.

DISCLAIMER
We (meet-an-inmate.com) accept no responsibility for the accuracy of any content found within these pages. The appropriate safeguards should be used in communicating with any person(s) that you may meet through this service. By using this service, you agree to not hold us responsible for any costs, liabilities, attorney's fee, or damages that you may incur. The ads placed on my service are written by the inmates and we are only the means by which their ads are published. To use this service, you must be at least 18 years of age.