In Roseburg, Oregon, you never know what type of weather Spring has in store. There is the late spring, when it rains until July 4th, or the early summer blast when the temperature spikes to 100* in May. Both types of Spring can challenge and frustrate the casual gardener, but these ten of my favorite bloomers will perform no matter what kind of start to the growing season Mother Nature provides.
10. Spiderwort (Tradescantia)
This clumping beauty grows to about a foot or two in height, is easy to care for, and comes in blue, pink, white or red. It blooms continually for four to six weeks in the summer. No one knows exactly how it got its name, whether from the spidery look to its hanging flowers, or the fact that it can be used to treat spider bites.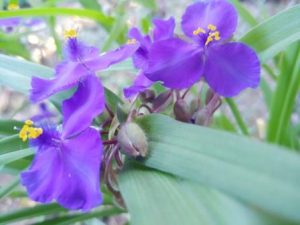 Photo Credit Levi Jordan
9. Mock Orange (Philadelphus coronarius)
A deciduous spring blooming shrub that can be manicured or left to spread out. The blossoms smell citrus spicy and are full of nectar that butterflies love. Grows 6 to 12 feet high in full sun or partial shade.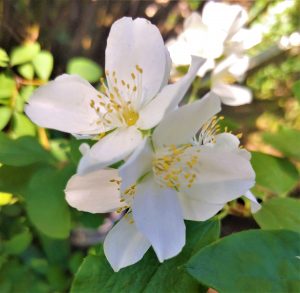 Photo Credit Levi Jordan

8. Anemone
Also known as Windflower, these come in many shapes, sizes and colors. There are single and double layers of petals, solid colors or bi-colored, and the centers can be a dark purple, almost black, or yellow. Once established, they are easy to care for and will spread. Anemones are deer resistant, as well.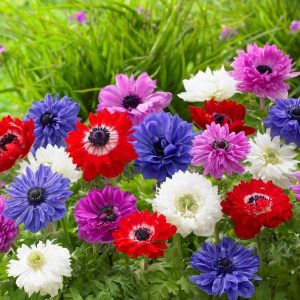 Photo credit Easy To Grow Bulbs

7. Peruvian Squill (Scilla Peruviana)
Native to the western Mediterranean region, not South America like the name implies, the star-like florets bloom over a period of 3 weeks or more during Spring. In time, the bulbs will multiply and form large clumps.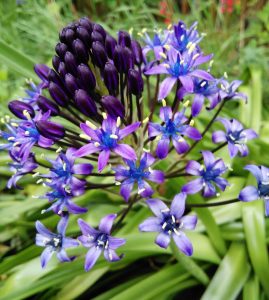 Photo Credit Vickie Jordan

6. Cyclamen (Cyclamen persicum)
Typically recognized as an indoor potted plant from the florist, cyclamen is lovely in a flowerbed. When grown outside, it blooms from late winter to early spring. Carries the scent of a beautiful, delicate fragrance, like a fine perfume. Choose from white, pink or red.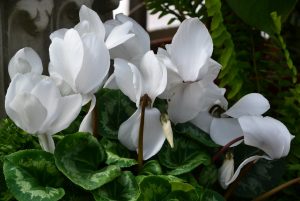 Photo Credi Flikr.com
5. Nasturtium (Tropaeolum majus)
These bright colored vines with striking blooms thrive on neglect and do well in poorer soil. They never need fertilizing and start from seed easily. Their leaves and flowers are both edible and they come in a variety of oranges, yellows and reds.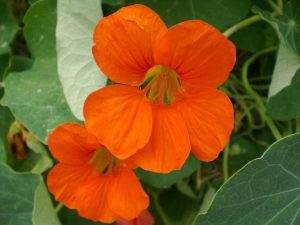 Photo Credit Famers' Almanac

4. Love In a Mist (Nigella damascena)
Easily started by broadcasting seeds across the flowerbed in the fall (no digging necessary), this delicate, old-fashioned annual is a giver. From the finely cut leaves, to the paper-thin flower petals and peculiar seed heads, this 1-2 foot tall plant is precious as a cut flower and interesting as a dried seed pod. Also comes in pink and white.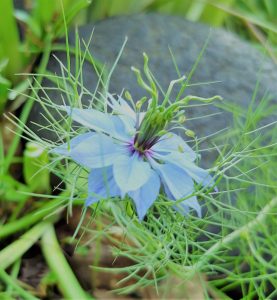 Photo Credit Levi Jordan
3. Tuberose (Polianthes tuberosa)
Tall flower spikes with numerous tube-shaped blooms produce a fragrance that is rich, sultry and seductive, the extracts of which are used in perfumery. Although the plants are sub-tropical, tuberoses will bloom on stalks 3-4 feet high in a sunny spot in almost any region.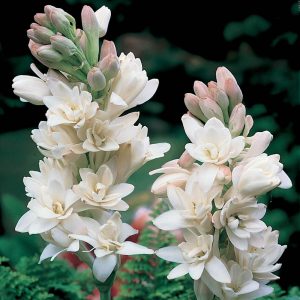 Photo Credit Breck's
2. Gerber Daisy (Gerbera jamesonii)
Another florist favorite, this show-stopper can grow flowers 12-15" in diameter. Container friendly with sturdy stems, this perennial is attractive to bees, butterflies and birds, but is deer resistant. It is commonly known as the African Daisy and also comes in white, yellow, orange and pink.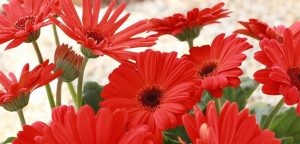 Photo Credit Costa Farms
1. Lupine (Lupinus)
Also called Sundial Lupine, this plant is a member of the pea family. Spiky blue flower clusters draw pollinators, but are resistant to deer and rabbits. There are many varieties, growing from 12" to 5' tall. Also comes in white, purple or pink.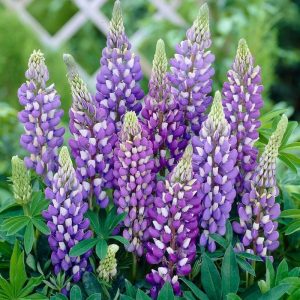 Photo Credit American Meadows
Conclusion
These selections will have your Roseburg, Oregon garden awash with color and textures that lure in many types of birds and insects like butterflies, bees and dragonflies.
Thank you for perusing my favorites. Maybe I have enticed you to try a few?
Vickie Jordan